"Porcja Dobra" hits the shelves
2018.12.03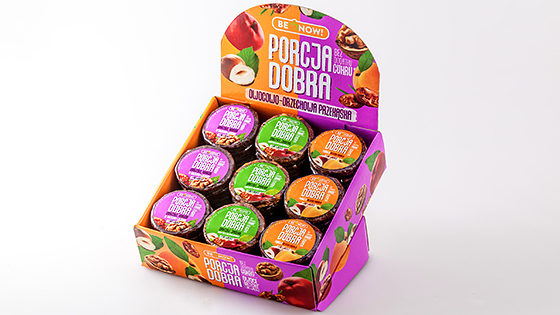 The negotiations with numerous commercial agents on introducing "Porcja Dobra" into a retail channel is still under way yet we are hoping they will bring tangible benefits soon.
Currently, some of our business partners have already noticed that "Porcja Dobra" is not just another, high-energy snack made of all-natural ingredients, but also a certain business concept, which can be briefly summed up by the words: "It pays off to be good."
From December 2018 onwards the label "Porcja Dobra" is available at 2 locations in Bialystok city. These are EKO ZDROWIE at Warszawska 57 St. and ZDROWY SKLEP located at Dubois 4a St. One can see that the shop names themselves prove that the right products found the right places (ZDROWIE means health in Polish) which promote conscious eating and responsible business.
We are looking forward to the first comments and product reviews made by customers. The ones that have so far appeared on our facebook profile testify to the fact that our snacks appeal to the most of tastes. We are very happy because we tested different formulas of dried fruits and nuts for over a year to get a satisfying result. But no pain, no gain.
We do not want to reveal all the details yet, however conversations with other stores and retail chains are on the right track and soon the "Porcja Dobra" should be found at new selling points. If you try one of our products, do not forget to let us know if our products appealed to you and your family or friends.