Strips
Pure fruit and that's it!
As one famous saying goes – an apple a day keeps the doctor away.
Our fruit strips contain the quintessence of apple values ​​with addition of one of three precious ingredients – blackberries, plums or strawberries. This delicious and healthy snack does not only satisfies sugar cravings, but also provides valuable nutrients ​​necessary for everyday functioning.
With our natural fruit snacks you can enjoy the taste of your favorite fruits all year round.
Available flavours


apple

cherries
Apple & Cherry bar
Apples and cherries are a unique combination full of taste and health. They are also a treasure trove of vitamins, minerals, and antioxidants. These fruits have properties that slow down the aging process and prolong physical and mental fitness.


apple

peach
Apple & peach bar
The peach, known as the "sunny queen of summer," in combination with apples, impresses with its taste. This duo immediately evokes memories of warm days, and thanks to its nutritional values, it relieves stress, calms the body, improves immunity, and adds energy.


apple

orange
Apple & orange bar
The unique combination of apples and oranges makes for a perfectly balanced sweetness and sourness. The minerals and vitamins contained in these fruits are conducive to the prevention of cardiovascular diseases. Additionally, the high content of vitamin C in oranges supports the immune system, protecting the body against infections.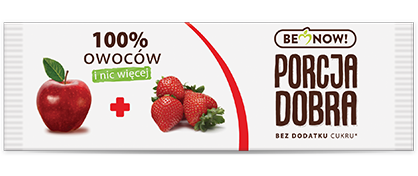 apple

strawberrys
Apple & strawberry bar
Thanks to ripe red apples and sweet strawberries used in production process, this delicious and healthy snack is loved by both – children and adults. Being rich in vitamin C and potassium it strengthens the body's immunity at the same time satisfying your sugar craving.
Ingredients: apple (69.5%), strawberry (30%), lemon (0.5%).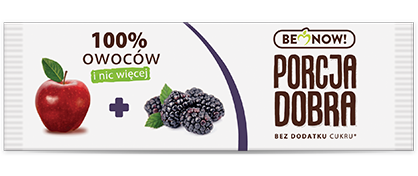 apple

blackberrys
Apple & blackberry bar
Tasty, naturally sweet and healthy snack. Blackberry contains a lot of antioxidants that eliminate free radicals thus resulting in slowing down ageing process and curbing the odds of disease occurrence.
Ingredients: apple (69.5%), blackberry (30%), lemon (0.5%).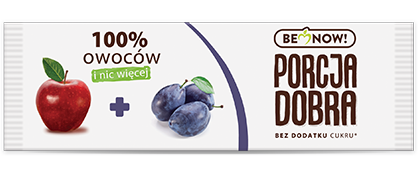 jabłka

śliwki
Jabłkowo-śliwkowa
Pyszny i zdrowy smakołyk, który poprawi humor, a przy okazji wspomoże trawienie. Śliwka i jabłko są znane ze swoich właściwości, wpływających korzystnie na układ pokarmowy. Owoce te regulują trawienie, poprawiają apetyt i chronią przed wolnymi rodnikami.
Składniki: jabłko (69,5%), śliwka (30%), cytryna (0,5%).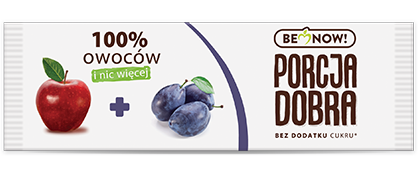 apple

plums
Apple & plum bar
A delicious and healthy treat that will most likely improve your mood, at the same time aiding digestion process. Plums and apples are known for their properties exerting a positive effect on the digestive system on the whole. These fruits regulate digestion, improve appetite and protect against free radicals.
Ingredients: apple (69.5%), plum (30%), lemon (0.5%).