Porcja Dobra at the 5th edition of E.Leclerc Fair
2019.09.20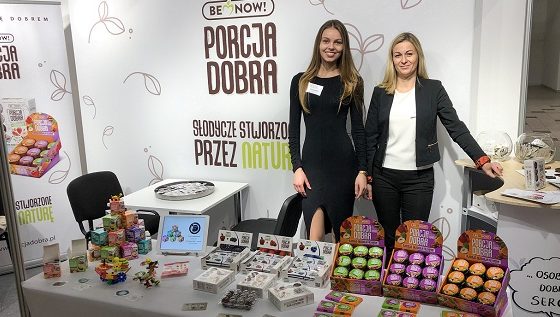 More and more stores become interested in our Porcja Dobra snack line. This should not surprise us as whoever who has ever tried our products knows that they not only taste great, look appealing but what is the most important are a healthy alternative to stop sugar craving. Porcja Dobra is not just good but it also has a great sales potential.
Probably that is why there were so many traders who stopped by our stand. And took interest in our products during the 5th E.Leclerc Fair. The event took place at Ptak Warsaw Expo in Nadarzyn on September 18 and 19. It was attended by nearly 200 suppliers and representatives of almost all E.Leclerc outlets from all over Poland. Many of them left us their business cards because they liked the offer and products. We've already started working with some of them. So please start looking for our product range in E.Leclerc chain stores.
We also heard a lot of flattering opinions. They assured us that Porcja Dobra is a part of current trend and this is what customers are looking for. Short labels, simple and clear composition make a perfect healthy titbit.
It is also worth mentioning that the network of our online distributors is also developing quite well. Our snacks can already be found at about 20 online grocery stores, including the largest ones specializing in healthy food. Talks with other contractors are also underway.
We are very pleased with this rapid increase in popularity yet we bear it in mind that we owe it primarily to our customers who simply know what is good.