Porcja Dobra and Jagiellonia
2019.09.14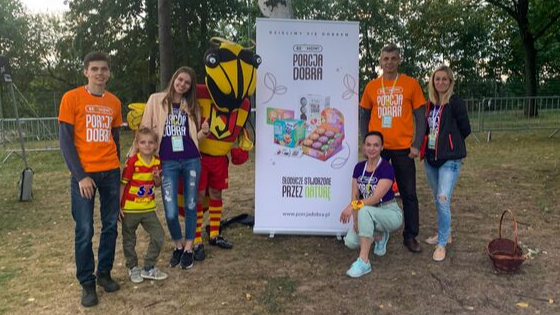 On the 13th of September the football stadium located at Sloneczna St. in Bialystok was plunged in a firing mood. Everlasting rivals – Jagiellonia and Legia – were to face each other in a soccer game. On the other hand, we and Porcja Dobra decided to soften our customs a little and bring a little childish carelessness and joy into this franzied football fan world. So we set ourselves up in the VIP sector and in the family sector and started handing out Porcja Dobra fruity strips.
10,000 snacks were distributed within half an hour. Some fans irrespectively of their team allegiance liked them so much that they would approach us several times to get one more leaf off. But most of all our snacks appealed to the juvenile visitors testifying to the fact that Porcja Dobra connects people from all walks of life and ages. When we eat something good, we all feel joy and even bliss.
But let there be no misunderstandings, with no doubt, as a company based in Choroszcz near Bialystok, we are true fans of Jagiellonia . That's why we decided to estabilish long lasting ties with the local club. To this end we will support, future Jagiellonia players who just learn playing football at present supplying them with our Porcja Dobra snacks. They already had the opportunity to taste our snacks and eventually it has been unanimously decided they would receive some snacks during all trainings, to receive extra energy and vigor boost.
It is not the first and certainly not the last time we are supporting athletes. An active, healthy, conscious lifestyle is an idea that has been guiding us from the very beginning and we are  and  we consistently strive  for that goal whatever it takes.