Top Choice in the Influencer's Top 2019 plebiscite
2019.05.29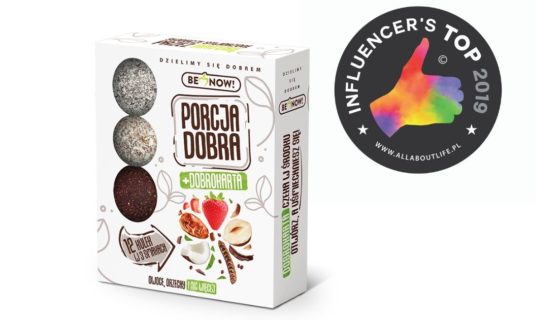 We are proud to announce our  Porcja Dobra fruit and nut balls have been awarded the Top Choice in the "Sweets" category.
We had the pleasure to participate in the Influencer's Top 2019 plebiscite, where stars and influencers chose the best products of the year. For this purpose the key opinion leaders who create trends on the market were invited to join in.
When assessing products, the Selection Board was awarding points from 0 to 10 in the following categories: quality, aesthetics, functionality and innovation. We are extremely proud and  grateful to each jury member for such high marks as our fruity nut balls obtained an average score of 9.32.
The Influencer's Top 2019 awards ceremony which took place  in the beautiful garden of Dawne Smaki Restaurant in Warsaw is already behind us. The event was hosted by Beata Tadla and was graced by the presence of: Natalia Siwiec, Piotr Ligienza, Milena Rostkowska Galant, Aleksandra Radwan and bloggers as well as influencers who were members of the jury.
We encourage you to watch the photo report from the event.