This time our healthy snacks were present at World Food Poland!
2019.03.22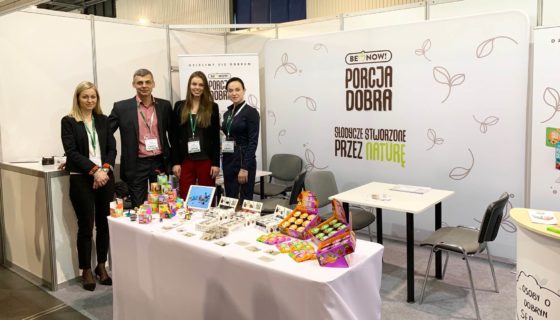 Three days of intense but fruitful work are behind us. From 7 to 9 March 2019, we presented our products at the domestic "World Food" Fair. It was already the fifth edition of this important food industry event. We are pleased that out of 302 exhibitors from 24 countries who took part in it we and our products enjoyed popularity among visitors.
According to the organizers' statistics, over 6000 people paid visit to the venue. We already know which of them were unable to pass our stand indifferently. The experience has shown who our sweets attract the most and they were children which should not come as a surprise to anyone. The kids appeared at the fair accompanied by parents who had to deal with some adult tasks there. Each time they passed our stand, they would stop by to pick up another Goodness Cube containing a surprise toy inside, or would have other goodies from the "Good Portion" line. Also parents themselves, were willing to sample our products. Thanks to this we have the most reliable feedback that we get with our offer to the right customer. After all, we have created our healthy, sweet snacks with a view to children. Their compliments and opinions are therefore priceless to us.
However, not only the youngest ones liked the colorful packaging and the taste of our snacks. "Good portion" was also very popular among potential contractors. Our stand was located in the Eco Food sector. Both the Polish and foreign distributors visited us. We held talks with representatives of retail chains, shop and café owners, as well as ordinary consumers. What convinced them the most about our products? They were impressed that with a very limited number of ingredients – some snacks are made from fruit and nut – we managed to achieve such a great taste. They also appreciated the design of our products, which is cheerful, colorful and eye-catching from a distance. A share of the business talks we have held turned out very   promising. We therefore expect that soon the Good portion will be available for purchase at new locations and will become more easily available.